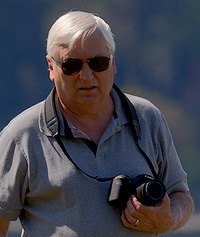 R David Parker
My adventure into photography started in 2013 when I bought my first DSLR.  I did not realize it at the time that it could turn into a full time "job" especially if the weather cooperates with more sunny days.
I have done a lot of tutorials, CreativeLive broadcasts as well as attending class doing my best to understand not the camera so much as light, composition, Dynamic Range of the human eye versus what a camera can "see".
Before the camera, I had a work-a-day existence until the economy would no longer support me working so I had to "retire" and go on to something else.  I am a computer junkie specializing in Windows software and hardware however I am now letting other people build things for me.
I shoot Canon cameras which was a selection made for me when the store did not have other cameras in the price range and functionality I was looking for.
I belong to the Olympia Camera Club, in Olympia WA and they have helped my photography immensely.
My partner, Carole, is an avid photographer as well and side-by-side, we take different pictures of the same thing.  She is the artist between us and sees things I do not.  Our work flow is also distinctly different as well.